3D Printed Guns
THE LATEST ON 3D PRINTED GUNS
It's hard to keep up with the latest news and updates on 3D printed guns – that's why we've compiled a list of the bigger news items from the last 12 months below. Keep an eye on this space as it is updated regularly.
01/24/2020 - States Suing US Government Over 3D Printed Gun Laws
A coalition of 20 states and the District of Columbia is suing the federal government in the US over the Trump Administration's plan to let people share 3D printed gun blueprints online, the Associated Press reports.
The coalition, led by Washington state, filed its lawsuit on January 23 in Seattle.
It's not the first time states have banded together to sue the federal government over this issue. In 2018, a federal judge in Seattle delivered a temporary restraining order to stop Defense Distributed, a pro-gun organization, from releasing the 3D printable gun files.
This current attempt to block 3D printed gun files from going online is an effort to stop the federal government's latest route to allowing the files for ghost guns to be freely shared.
Critics are concerned sharing the files online will give criminals access to untraceable guns, while advocates of sharing the files say they are exercising their first and second amendment rights.
03/31/2020 - 3D Printed Gun File Repository Defcad Selling Access to its Library
A company connected to activist Cody Wilson is selling 3D printed gun files over the internet to approved residents of the US, reports the Wall Street Journal.
Wilson, the founder of Defense Distributed, has been waging a legal battle for years now, in an attempt to give everyone the ability to print their own guns.
His latest attempt is through Defcad, which calls itself a "repository for small arms technical data," and of which he is a director.
"We invite you to share original and legacy firearms models, CAD/CAM data, blueprints and drawings," reads the site.
Users can pay a yearly fee of $50 to access the files, which they are also welcome to upload themselves.
On Defcad's website, they also write that their "files and other hardware are not currently available to persons outside the United States and are only available to residents of and persons in the State of New Jersey who possess a federal firearms license."
However, it's not clear that this will protect them from a legal challenge.
01/05/2021 - Possessing Gun Blueprints Is Now a Crime in Singapore
On January 5, 2021, Singapore Parliament tightened gun control with a revised Guns, Explosives, and Weapons Control Bill.
The bill makes the ownership of digital blueprints of a gun or gun parts without a license illegal. This includes explicitly 3D printed guns. Excluded are blueprints for 3D printing imitation guns or props.
The bill also raises the fines for gun and explosive offenses to US-$38,000 for individuals and $75,800 for entities.
Singapore has one of the strictest gun control laws in the world, even punishable by death.
THE FACTS ABOUT 3D PRINTED GUNS
DO THEY WORK?
Sort of. If built properly, they can work; but on some occasions, guns blew up in the shooter's hand. There are recent examples of where someone tried to use a 3D printed gun and it didn't work as expected (remember the shooting in Halle, Germany?). Generally speaking, most 3D printable gun files still require non-3D printed parts in order to complete the build, otherwise, they're not all that reliable – making them a less than ideal option for would-be criminals looking to have an unregistered firearm.
But, this is changing and a lot of improvements have been made since the Liberator was released. In the Deterrence Dispensed community, they have continued 3D printing gun parts including AR-15 lowers, Glock frames, AK receivers (which can handle 2,000 rounds and are only partially 3D printed), and some pistols like the Songbird (which is primarily 3D printed).
Part of their goal is to allow people to 3D print guns as cheaply as possible, using the cheapest 3D printers and filaments. While the former gun parts (Glock frames, AK receivers, etc.) still require a host of metal parts to be completed, the latter does not.
However, many groups committed to building their own guns are moving away from 3D printing them and shifting to using CNC milling instead. Defense Distributed left the Liberator behind and is now focused on its Ghost Gunner (they're on their third iteration of the machine, the Ghost Gunner 3, which costs $2,100), a desktop CNC milling machine that can produce parts for an AR-15, AR-308, 1911, and Polymer80.
Rather than trying to print an entire gun out of plastic, these groups are milling unfinished lower receivers for AR-15s, known as the 80% lowers or 80% receivers, and using that along with other parts to produce completed rifles. The 80% is the magic number in this case because since the lower receiver is only partially completed, it's not legally considered a firearm in the US.
With these CNC milled guns, after buying the CNC mill itself, you can spend about $200 to $400 more for the additional gun parts.
ARE THEY LEGAL?
In most countries, distributing 3D printed gun models is illegal. The most significant outlier is the US, which has bounced back and forth over the last four years due to an ongoing legal fight and changes in directions by the government.
A notable example of a company trying to work its way around the law happened in March 2020, when a US company associated with Cody Wilson (who used to run Defence Distributed until he was charged with sexual assault against a minor) made headlines for selling its files to residents of New Jersey with firearms licenses.
But, despite – or perhaps because of – the illegality of these CAD files, they've managed to find a home on the darknet, where they are sold alongside traditionally manufactured firearms and other black-market weapons.
Not only is the cost for these CAD models extremely low, but such files can be sold over and over again. Therefore, if and when the day comes where metal 3D printers become more affordable, it's possible that this minor issue could start to loom larger.
ARE THEY UNTRACEABLE?
Unlike traditional guns, which have serial numbers and require buyers to get a background check, 3D printed guns fly under the radar – mostly.
A professor and graduate student at the University of Mississippi created a way to trace 3D printed guns, reported the Clarion Ledger, by collecting traces of the polymers used to print the guns and then identifying them using mass spectrometry.
The researchers put the different polymers used to print guns in a database to help forensic experts identify whether a crime was committed using a 3D printed gun.
GUN RIGHTS ADVOCATES ARE BUILDING A NETWORK
Cloaked in the anonymity of the Internet, gun activists are building up a decentralized network where they share print files and advice, reports Wired.
"If they were to come after me, they'd first have to find my identity," says Ivan the Troll, a member of the group, to Wired. "I'm one of many, many like-minded individuals who're doing this sort of work."
The members share videos online, showing off their 3D printed handguns and the production process, along with CAD models and other gun-related files. They discover the group primarily through Reddit and online forums.
Though they aren't all ideologically alike, many of them share the same views on anarchy, freedom of speech, and a right to bear arms. And unlike other gun advocates, like Wilson, this group (Deterrence Dispensed) doesn't care about whether it's legal or not to 3D print guns.
This rampant, flagrant, anonymous file sharing makes it difficult for law enforcement to keep up.
A BRIEF HISTORY OF THE 3D PRINTED GUN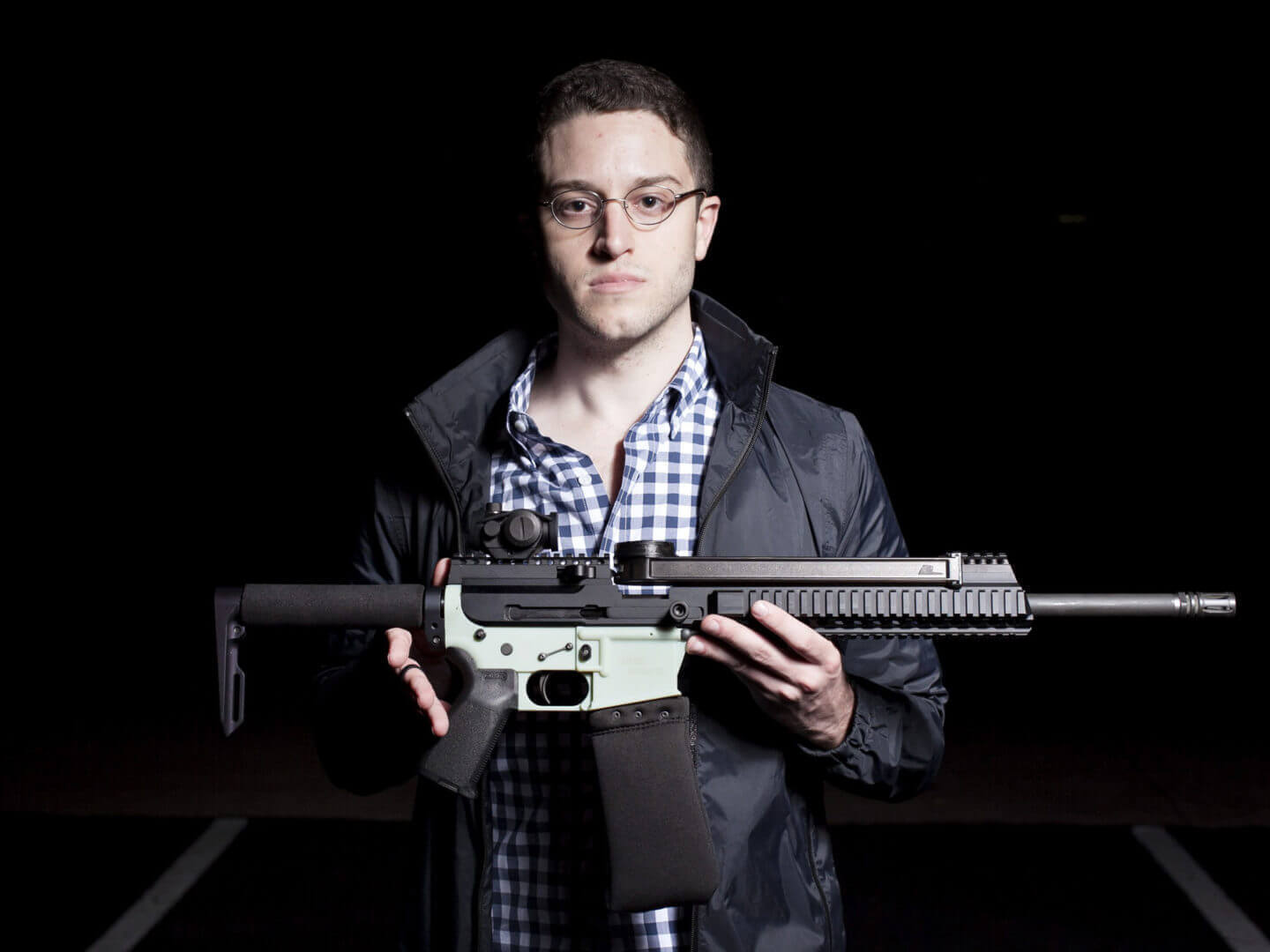 The world's first functional 3D printed gun was designed back in 2013 by Cody Wilson, a crypto-anarchist and the founder of the Texas open-source gunsmith organization Defense Distributed. The 3D files for this one-shot pistol were the first to be released into the world. They sparked an unprecedented controversy that still looms over the 3D printing community to this very day.
After the files for the Liberator were downloaded over 100,000 times in two days, the US Department of State compelled Defense Distributed to take the model down. This demand has sparked an ongoing legal battle between the techno-anarchist and government.
Most of the 3D printed guns that have surfaced thus far are in the form of a pistol. But 3D printable parts for semi-automatic weapons have been released by Defense Distributed – and confiscated by police.
As 3D printed gun blueprints are distributed by the internet, they have been found across the world, with governments scrambling to impose laws that would strictly prohibit 3D printed guns, and in some cases even 3D models of firearms.
Every component of Wilson's Liberator was 3D printed except for the metal firing pin and the actual bullet. The Defense Distributed founder has also created an automatic weapon that is not fully 3D printed but is equipped with additively manufactured components.
Since then, Wilson has continued on his campaign to put DIY firearms in the spotlight. After his 3D model was forced off the internet, Defense Distributed released the Ghost Gunner, a desktop CNC milling machine designed to manufacture guns. At first, the machine was only capable of producing the lower receiver component for an AR-15. However, Wilson has since upgraded the Ghost Gunner software to make it capable of creating the aluminum frame of an M1911 handgun.
While Wilson believes that he is advocating for gun rights by making firearm production more accessible and undetectable, others have grown worried about this technology getting into the wrong hands. Across the world, countries are passing laws that equate 3D printed guns with traditional firearms. In some places, even having the 3D model for a firearm would be considered possession of an illegal weapon.
WHERE DO THINGS STAND TODAY?
As mentioned, 3D printed guns are becoming less important among groups like Defense Distributed, which has shifted its focus from printing guns out of thermoplastics to CNC milling them. This is largely because 3D printed guns are unreliable, but also because of the increased accessibility of desktop CNC milling.
Though 3D printed guns are banned in most countries, some places still have more encounters with them than others. Here's a look at how governments of countries around the world have been handling 3D printed guns and how their citizens have been responding.
US
In the United States, the legality of 3D printed guns and CAD files has been in flux.
It is illegal under the Undetectable Firearms Act to manufacture any firearm that cannot be detected by a metal detector. 3D printed guns are usually made from PLA or ABS and are therefore not allowed in the US, as legal designs for firearms require a metal plate to be inserted into the printed body.
Some states that allow firearm ownership have taken up the issue of 3D printed guns themselves. For example, California passed a law that requires a 3D printed gun to be properly approved and registered. But with relatively lax gun laws already existing in a number of US states, 3D printed guns have proven to be more of a glaring problem in Australia (more on that below), which has much stricter anti-gun legislation.
Much of the back and forth regarding laws around 3D printed guns in the United States were sparked after Wilson introduced the Liberator, the US Government pushed back hard against 3D printable gun models and they were deemed in violation of the International Traffic in Arms Regulations (ITAR). However, Wilson filed a federal civil suit against the State Department.
In 2015, Wilson's company, Defense Distributed, filed a lawsuit against the government in response to ITAR being used to limit its freedom of speech.
In September 2016, the United States Court of Appeals for the Fifth Circuit rejected Wilson's preliminary injunction request, claiming that national security concerns outweigh Defense Distributed's First Amendment right to freedom of speech. However, ultimately, in 2018, the lawsuit was settled, creating a new legal precedent for the blueprints to legally go back online.
This settlement was not well-received by many US states, nine of which joined together to file a lawsuit against the Trump administration for allowing 3D printable guns back onto the internet.
Later in 2018, a federal judge in Seattle delivered a temporary restraining order to stop Defense Distributed from releasing the 3D printable gun files. In 2019, that same judge ruled that the Trump administration's reversal of the Obama administration's decision to ban posting gun blueprints online was illegal. This meant Defense Distributed could no longer share 3D printed gun blueprints online.
However, the controversy in the US continues with 20 states currently suing the federal government over the Administration's plan to allow people to share 3D printed gun blueprints online.
At the time of writing, it is yet unclear what actions Joe Biden's Administration will take when it comes to 3D printed guns.
AUSTRALIA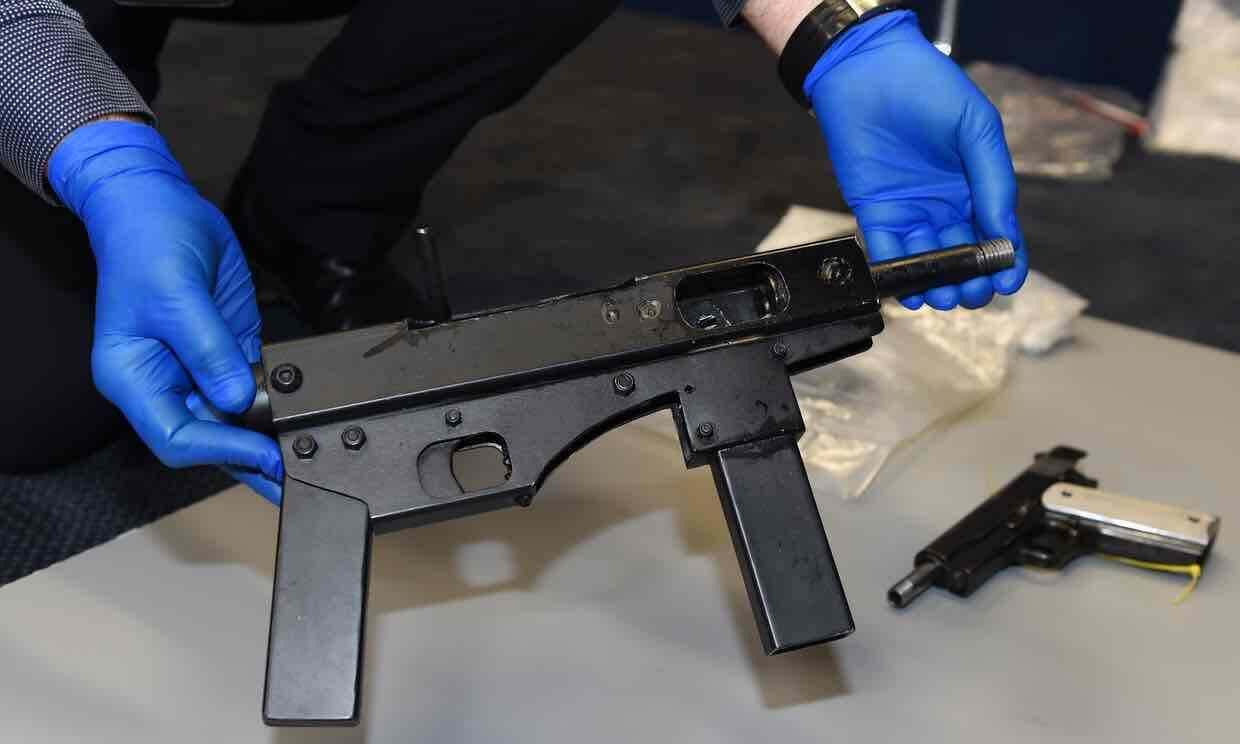 No country has encountered as much legal trouble with 3D printed guns as Australia has. Their strict firearm legislation has limited access to traditional weapons. So some have turned to 3D printing to help circumvent the law.
To combat the rise of 3D printed guns, New South Wales passed a law equating possession of 3D gun files to actual possession of a 3D printed gun. In 2015, the county amended its firearms act to include a clause that says "A person must not possess a digital blueprint for the manufacture of a firearm on a 3D printer or on an electronic milling machine… [or face a] maximum penalty: imprisonment for 14 years."
EUROPE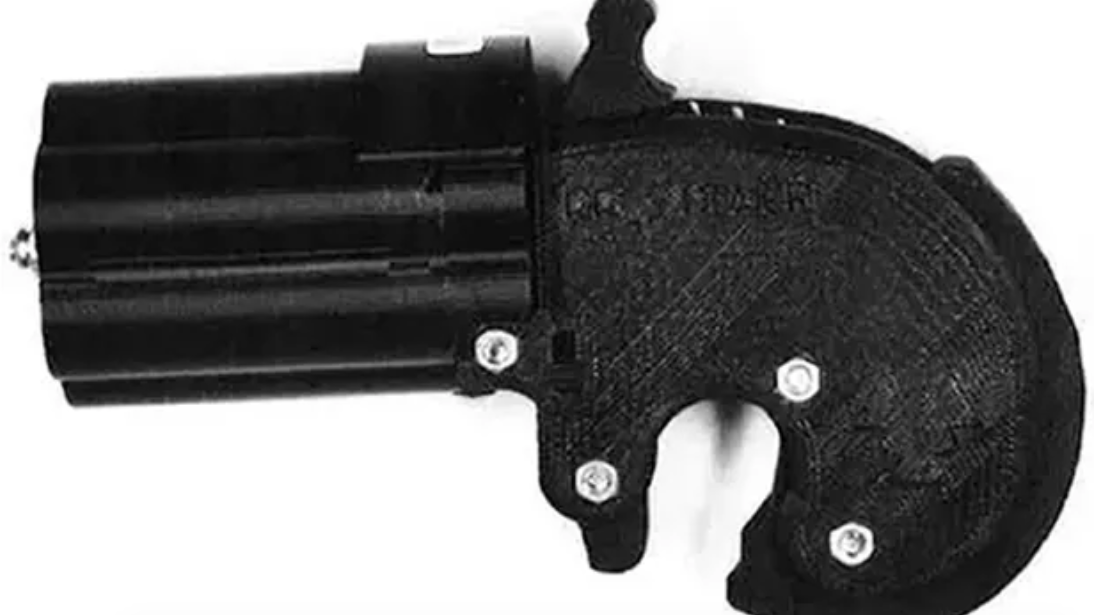 When you look at the regions that downloaded the Liberator files the most, you'll find that most of the leading countries are located in Europe. During the two initial days Wilson's infamous 3D printed gun was available online, it was downloaded the most in Spain, followed by the US, Brazil, Germany, and the United Kingdom.
The United Kingdom has been particularly concerned with the rise of 3D printed guns, calling them a threat to national security. In 2013, the UK Home Office introduces stricter regulations on 3D printed guns or gun parts, making it illegal to create, buy, or sell them in Great Britain. And, in late 2019, the first person in the UK was convicted of manufacturing a gun using a 3D printer.
ASIA & THE MIDDLE EAST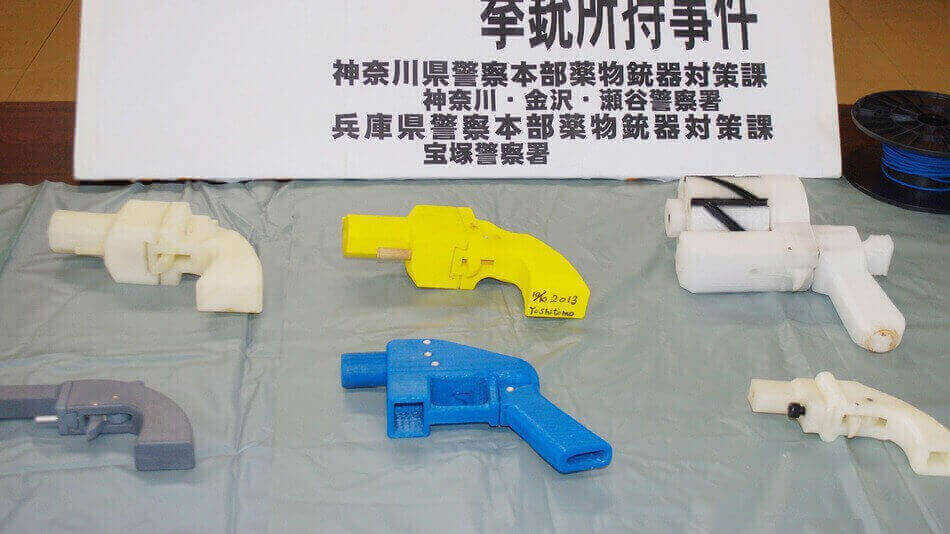 Shortly after Wilson's design surfaced, Japanese citizen Yoshitomo Imura designed and printed a six-shot revolver known as the ZigZag. The government ended up sentencing him to two years in prison for 3D printing guns and also instructing others.
In Singapore, possession of a 3D printed gun is punishable by death, even if it's an air pistol. Even owning digital blueprints is considered to be a crime.
China has also taken extreme measures to monitor and prevent 3D printed guns and other weapons from surfacing. Police in Chongqing requires all companies with 3D printers to register themselves as "special industries", asking for the equipment in use, the security measures they have in place, and even information on all employees.