All About Material Jetting
Among various 3D printing technologies, material jetting is the most awe-inspiring. It combines the outstanding detail of resin 3D printing (stereolithography) with speeds better than filament 3D printing (fused deposition modeling) to create parts and prototypes in true-to-life color and texture.
Unlike other 3D printing technologies, there are no hobbyist versions of material jetting machines (yet). These are for professionals, found at automakers, industrial design firms, art studios, hospitals, and all types of product manufacturers looking to create accurate prototypes to test concepts and get products to market faster.
Recent material developments have expanded material jetting's application to biocompatible dental molds, rapid factory tooling, and industrial jigs and fixtures. Yet, despite the wide range of applications, there are only two major brands making material jetting 3D printers, Stratasys and 3D Systems.
All of the products pictured in this article were 3D printed using material jetting. None have been painted, colored, or have non-3D printed parts added. Material jetting is as close as you can get to the look and feel of glass, woodgrain, leather, fabric, rubber grip, and smooth plastics, making this technology ideal for product prototypes.

As a technological process, material jetting is true to its name: it jets resin materials from tiny nozzles onto a build surface in rapid passes and instantly solidifies it with UV energy. You may hear it referred to by manufacturer-specific names; PolyJet by Stratasys or MultiJet Printing (MJP) by 3D Systems.
This innovative technology puts material jetting in a class of its own in terms of productivity. It's able to churn out dozens, sometimes hundreds, of unique objects per build. Other 3D printing methods simply can't compete with the production speeds and detail accuracy that material jetting printers deliver. But the real show stopper is multi-color and multi-material. No other technology offers the ability to create products in full color and transparency like material jetting, and as many as seven polymers (plus a support material) printed on the same part.
Let's take a closer look at this technology at why movie makers use it for props and costumes, auto makers use it for prototypes, dental labs use it for biocompatible models, jewelers use it for master patterns, and consumer product designers use it to test prototype features. We'll cover its advantages and drawbacks, suitable materials, and more applications. 
MATERIAL JETTING 3D PRINTING BASICS
What is Material Jetting?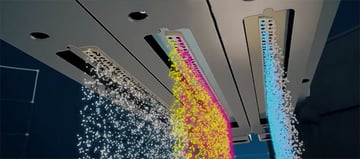 All material jetting 3D printing technology is not exactly the same. There are some variances between printer makers we detail below, but they all share the same core features. For the sake of brevity, we'll refer to material jetting as M-Jet in this article.
M-Jet is one of the fastest and most accurate 3D printing technologies. Because the printers spray the resin in tiny droplets, M-Jet is often compared to the 2D inkjet process, only, it builds three-dimensional objects in multiple layers.
The main components of an M-Jet 3D printer are the print heads, UV light sources, the build platform, and material containers. The print heads and the light sources are suspended along the same X-axis carriage that sweeps back and forth across the print bed depositing and curing material simultaneously. In some models, the print bed spins and the material jets are stationary. This may sound a bit sloppy at first, but consider that the thousands of sprayed droplets are tiny (~70 µm), and because they are cured instantly there's no oozing or pooling. The method is capable of high-precision builds and smooth surfaces.
| | |
| --- | --- |
| Stereolithography (SLA) | Material Jetting (M-Jet) |
| Single material parts | Multi-material parts (up to 6) |
| Single color parts | Multi-color parts (100,000+ colors) |
| Base resin material supports | Soluble resin material supports |
| Min layer height: 20 microns | Min layer height: 10 microns |
| Requires UV post-processing | No UV post-processing |
To begin the M-Jet printing process, the printer heats resins (up to eight kinds at once depending on your printer) to reach the appropriate viscosity. As the X-axis carrier starts to travel across the build platform, the print heads selectively jet thousands of droplets. The UV light sources follow the print heads and immediately cure the sprayed resin. M-Jet printers also create support structures simultaneously wherever they're needed. After an entire layer is completed, the build platform lowers by one layer's height. The process then repeats until the part is finished.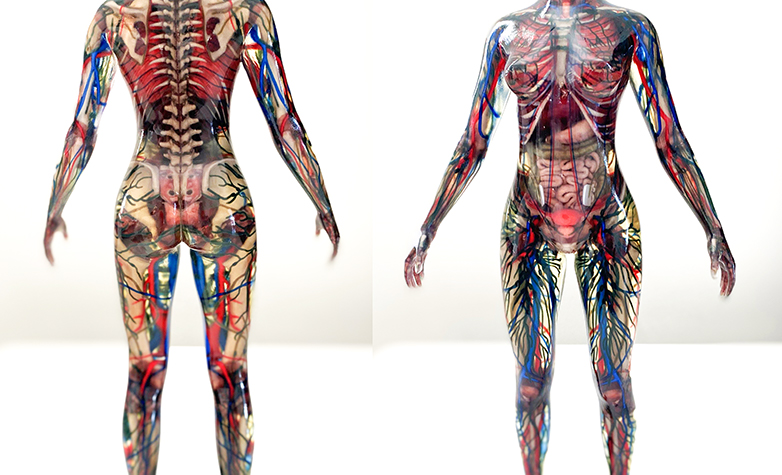 Similar Technologies
Drop-on-demand printing is very similar to M-Jet, but it uses wax instead of photopolymers. Some M-Jet manufacturers, like 3D Systems, also wax as a material option, while others, such as Solidscape, focus solely on wax printing. If your application only requires wax, for example, wax molds for jewelry making, drop-on-demand, may be the better fit. It has comparable accuracy to M-Jet.
3D printed electronics and circuit boards are also made using a type of material jetting from multiple print heads that employ photopolymer "inks" or water-based ceramic or nano-particle inks. Since electronics 3D printing is a unique market we won't cover it here, but the top machines include those from Nano Dimension and SUSS MicroTec.
A company called XJet manufacturers 3D printers that use what it calls Nanoparticle Jetting (NPJ). These printers also use inkjets, but they disperse metal or ceramic particles suspended in a liquid while simultaneously jetting a support material. The process takes place under high heat, which evaporates the liquid upon jetting leaving mostly just the metal or ceramic material. The resulting 3D part has only a small amount of bonding agent remaining.
Finally, M-Jet sometimes gets confused with binder jetting. However, binder jet printers jet binder solution over a thin layer of powder material (metal, ceramic, or polymer) to fuse it into the desired object. 3D Systems' full-color binder jetting 3D printer, the ProJet CJP 260Plus, is often compared to the Stratasys full-color M-Jet 3D printer J55.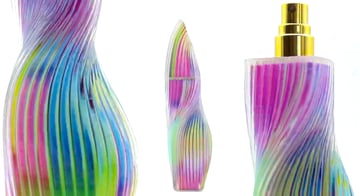 As we mentioned above, M-Jet is among the fastest and most detailed current 3D printing technologies with capabilities you won't find anywhere else. However, M-Jet is not without its limitations. Let's take a deeper look at its benefits and drawbacks.
Pros
Color Printing: M-Jet enables full-color 3D printing due to using multiple nozzles per print head. The printers can spray dyes onto the base material, reproducing colors across the full CMYK spectrum – so that's tens of thousands of colors. They can even produce color inside clear, glass-like transparent parts, such as for medical models. Stratasys offers 1,970 Pantone-validated colors.
Multi-Material Printing: As with color, the multiple nozzles enable you to dispense multiple materials (up to eight) across a single print. By incorporating different materials in different sections, M-Jet can produce parts with optimized mechanical and surface properties. The system builds color parts with clear and flexible components all in one job. For example, Thermos Company used M-Jet to make a drink bottle lid prototype that emerged from the 3D printer with a mixture of clear and rubberlike features suitable for liquid and gas testing.
Extreme Accuracy: Since M-Jet disperses minuscule resin droplets, it can achieve layer heights as thin as 13 microns. This results in smooth surfaces comparable to injection molding in appearance, in addition to the accurate reproduction of even the tiniest details.
Fast Print Speeds: As M-Jet deposits material across the entire object in one swipe, it can generally reach higher print speeds than other 3D printing technologies — particularly when printing multiple parts at once. However, print speed depends significantly on the material, level of detail, and size of the part. The further the print head needs to travel, the slower the build.
Soluble Supports: Although M-Jet is not a support-free technology, it does make removing supports in post-processing simple. Most M-Jet printers use soluble materials for supports, which can be easily dissolved in an ultrasonic bath with minimal or no surface marks.
Cons
High Cost: M-Jet printers are as expensive as they are fast and accurate. The resin materials are also costly, and the technology does produce waste due to requiring supports.
Materials: Although the material libraries that manufacturers offer have expanded and you can combine and even blend materials, which is a significant plus, the fact that all M-Jet printers only use their own proprietary materials, is still a bit of a drawback when it comes to costs of materials. Open-source material options for M-Jet is still far off.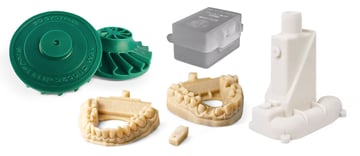 M-Jet photopolymer resin materials can generally simulate the most common 3D printing thermoplastic materials, such as ABS, PLA, Nylon, and polycarbonate. You'll find materials that can offer extreme durability, high rigidity, and high temperature resistance.
M-Jet wax materials are used for a range of mold making applications from jewelry to industrial investment casting.
Manufacturers tend to split their materials into categories based on their mechanical characteristics. Regularly seen material categories include engineering, high-performance, modeling, specialty, and support resins. Some manufacturers, such as 3D Systems and Stratasys, also produce composite materials to further enhance their properties.
Specialty materials are where M-Jet resins get the most interesting. For example, Stratasys and DP Polar produce clear, translucent materials. The former also makes materials that mimic bone and vascular system structures.


Who's Using M-Jet Now & For What?
M-Jet is a suitable additive manufacturing technology across a wide range of applications. Its high accuracy, speed, and output capacity make it a great choice for rapid prototyping, casting pattern production, jigs and fixtures, and more.



Automotive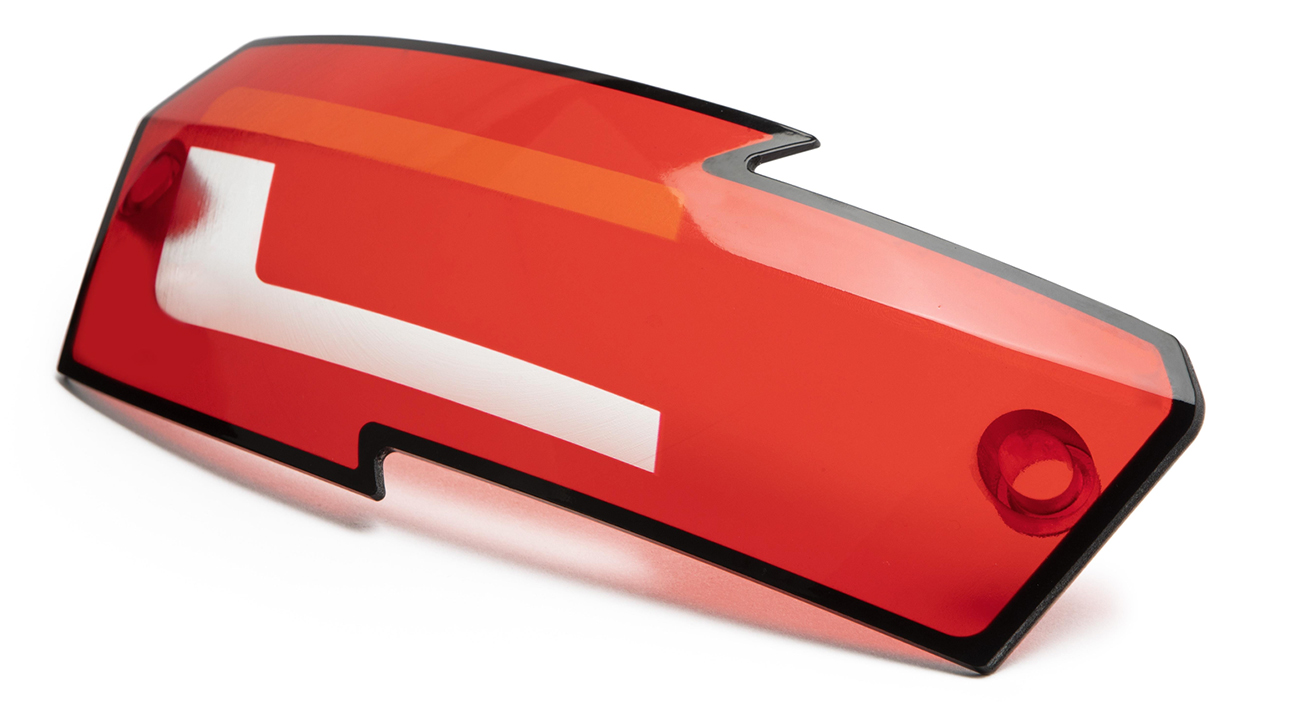 Before a new vehicle can enter production, car manufacturers must build physical models and prototypes to accurately evaluate new design concepts. At their Pre-Series Center in Ingolstadt, Germany, Audi traditionally used multi-step milling and molding to create plastic parts for design verification. In the case of tail light covers, these traditional methods increased lead times for parts and slowed time-to-market.
In 2018, Audi partnered with Stratasys to bring their M-Jet technology, called Polyjet, to Ingolstadt. The technology's ability to print clear parts and dye them allowed Audi to condense the previously multi-step process into one print run.
"We need prototypes to have exact part geometries, no distortion, and extremely high quality, as well as true-to-part color and transparency. We estimate time savings of up to 50% by using this 3D print technique in our prototyping process of tail light covers," said Dr. Tim Spiering, Head of the Audi Plastics 3D Printing Center.
Art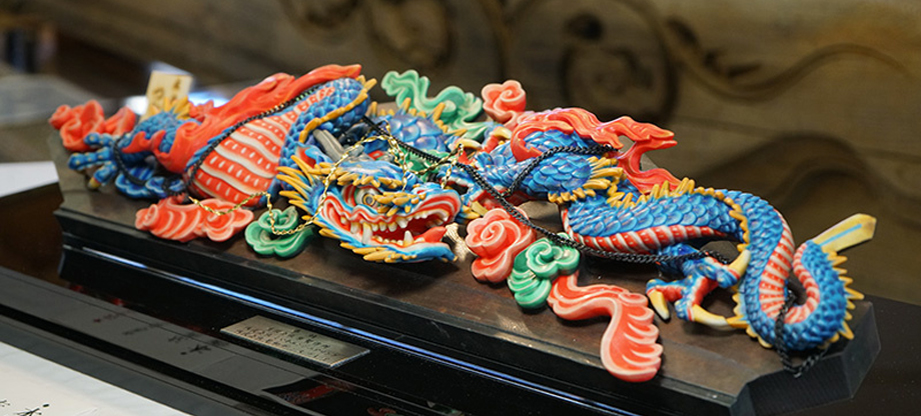 According to legend, the Chichibu Shrine in Saitama, Japan, is more than 2,000 years old, with the current shrine buildings dating to 1592. In 2018, the shrine launched a five-year renovation project to celebrate its 2,100th anniversary. As part of this project, they wanted to reproduce the Tsunagi no Ryu, an elaborately painted wood carving of a dragon adorning the shrine, for display elsewhere.
The replication was a collaboration between 3D printer manufacturer Mimaki and other companies. After 3D scanning the dragon sculpture, Mimaki printed it using their 3DUJ-553 M-Jet printer. The final copy, on a 1:5 scale, uses more than 10 million colors to accurately reproduce the vivid mineral pigments of the original artwork.
"We have never been able to 3D print colored data before, but Mimaki Engineering's full-color 3D printer is so rich in color expression that we were able to faithfully reproduce the full-color data," said Yosuke Hara, president of Hara Seisakusyo, the company that scanned the sculpture.
"This was our effort to record the 400-year-old technique of Hidari Jingoro by means of modern 3D printing technology. Normally, I am only able to view the original from below at the foot of the shrine pavilion, but now that I can closely inspect the replica from every angle, I have a renewed recognition of its perfect color expression," added Mr. Sonoda, a representative of the Chichibu Shrine.
Jewelry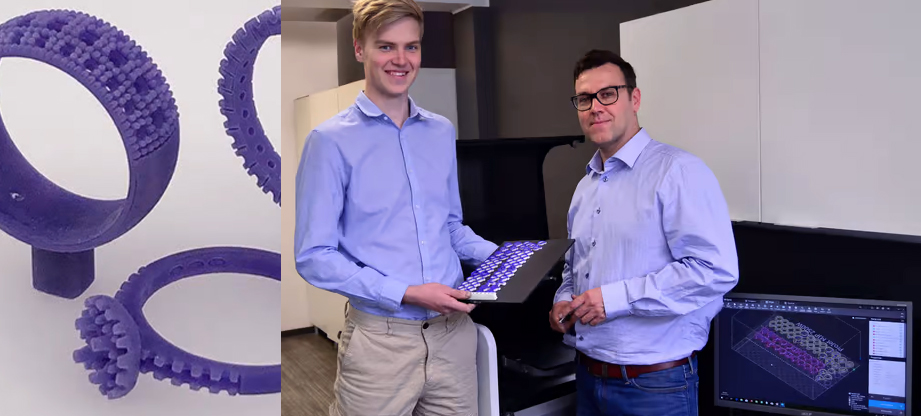 Finnish jewelry company Narsakka had used 3D design software for 20 years to produce diamond rings. Despite that, they'd always relied on manually carving their master patterns to mold wax models — a slow and laborious process. As a result, the company wasn't able to offer customized jewelry, which caused many customers to look elsewhere for their rings.
To resolve their problem, Narsakka turned to the 3D Systems ProJet MJP 2500W M-Jet printer. According to CEO Thomas Narsakka, this was a natural move as the company was already familiar with 3D design. With 3D Systems' wax-like jetting materials, Narsakka can now produce 100 jewelry models in only four hours. Without having to hand-carve master patterns and cast rubber molds, their lead times are now counted in days, not weeks.
"With the quality of the wax material we print with, we get a 100% success rate. It's also easier for us to calculate lead times and production cost. 3D printing basically gives us more control of our business," Narsakka said.
Packaging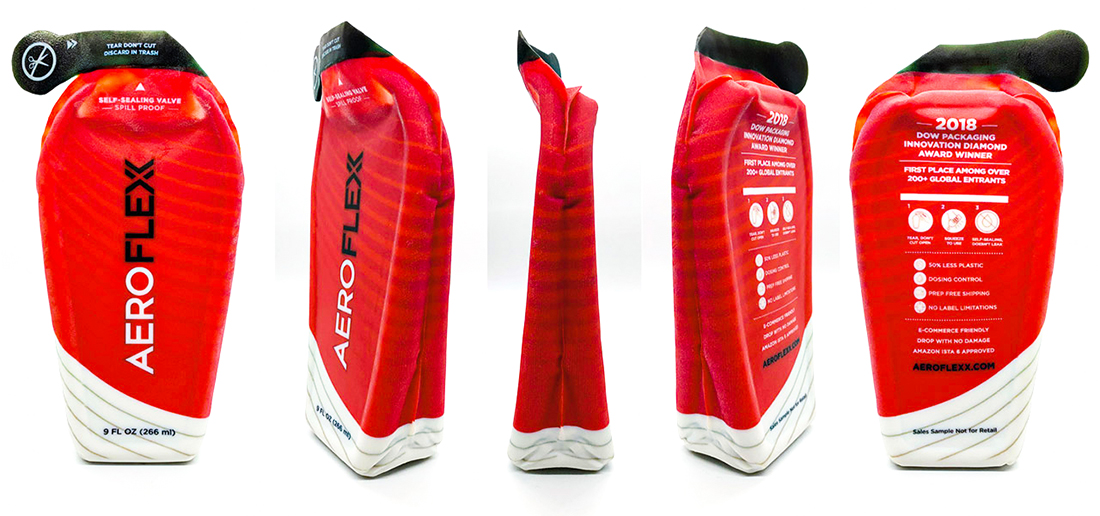 The production process of consumer goods packaging requires multiple design iterations. It helps manufacturers produce packages that are attractive and simple for customers to use. AeroFlexx, a producer of flexible liquid packaging, had tried SLA 3D printing before but hadn't been satisfied with the results.
SLA could only produce opaque design prototypes. To get the colors, transparency, and labels they needed, AeroFlexx had to painstakingly print prototypes in multiple parts and paint or apply heat-sealed stickers for graphics.
"It would be a lot of time and money spent just trying to figure out all those challenges, just to get a prototype," said senior industrial designer Derek Rund.
At the recommendation of consulting firm Kinetic Vision, AeroFlexx decided to give the Stratasys J55 Prime M-Jet printer a try. Initially, AeroFlexx didn't expect to see much difference. However, the technology's accuracy and ability to print prototypes with colors, text, and transparency in one piece took them by surprise.
"You have the ability to dress the bottle in a 360-degree design, which creates new marketing opportunities. There is no possible way we could make a good, compelling sale by articulating the art of the possible without something like this," said Cedric D'Souza, CTO of AeroFlexx.
Consumer Goods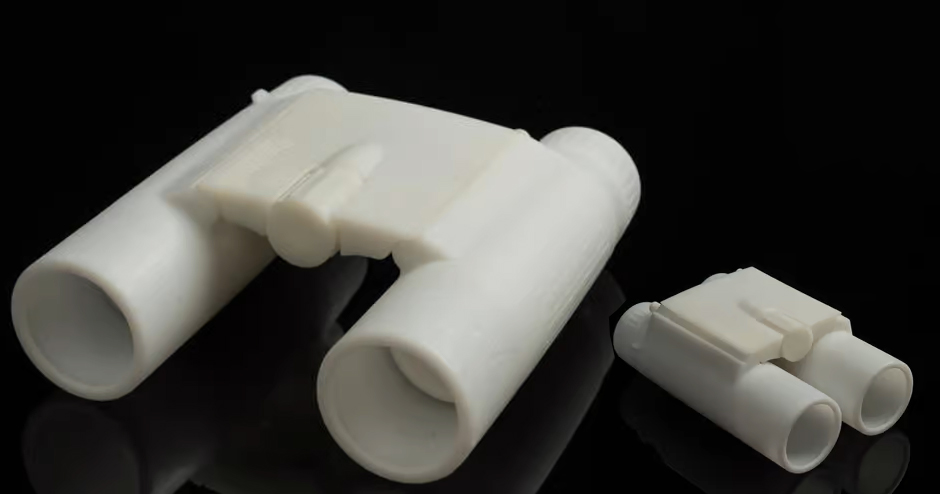 Just like their packages, consumer goods themselves go through exhausting design verification processes. Bushnell, a manufacturer of binoculars and rifle scopes, prides itself in the quality of its products. To accelerate new product development, the company was looking for a production method that could create true-to-CAD prototype models that were durable enough to go through functional testing.
Bushnell had always relied on machining to deliver the accuracy they needed. However, that accuracy came with high production costs and long lead times. Interested in 3D printing technology, they tried the 3D Systems ProJet MJP 2000 M-Jet printer.
The technology's accuracy allowed Bushnell to confidently create high-quality prototypes with superior surface finish and detail. Its fast production speed also makes it possible for the company to get quick design feedback. Bushnell has now expanded the use of M-Jet from optics to other departments, such as golf equipment.
"If we were to machine or injection mold these parts, we would end up waiting several weeks or sometimes months to get design feedback. The ProJet MJP 2500 has added a lot of value and gotten us through development faster than ever before," said Jake VanBecelaere, R&D/Engineering Manager of Optics at Bushnell.
Medical
King's College Hospital in London is one of the leading medical institutes in the treatment of maxillofacial (face and jaw) and craniofacial (skull) trauma. These specialized procedures demand an extreme level of expertise due to the difficult nature of such injuries. Consequently, the hospital is always looking for ways to make these vital surgeries faster and safer.
To improve the planning of their procedures, King's College Hospital began using a Stratasys M-Jet printer. The printer's accuracy, combined with the materials it supports, allows doctors to print detailed anatomical models based on CT scans of the patient's skull. They can use these physical models to plan surgeries in a way that previous digital-only models never could.
"In cases of skull meningioma, where there is a tumor growing in the skull, the surgeon needs to remove the tumor and restore the skull during the same surgery. Producing a 3D printed model of the skull with the tumor enables our surgeons to clearly visualize the outcome of the surgery before it is performed, and make better decisions on the size of the implant required to restore the skull defect after removing the tumor," said Dr. Muhanad Hatamleh, a senior clinical maxillofacial prosthetist.
The hospital now uses the 3D printed anatomical models in all of its maxillofacial and neurosurgeries. They've been able to reduce surgery times by a third. A previously 12-hour procedure now only takes seven. The shorter operating times also save the hospital significant amounts of money — not to mention the improved care for their patients.
"For us, having a 3D printed model for restoring skull defects cranioplasties is a must. It enables us to correctly fill the defect to normal contours, which is then reproduced and used to put a titanium plate in place. Overall, this results in a better aesthetic outcome and improves patients' confidence and quality of life," said Hatamleh.
M-JET 3D PRINTER MANUFACTURERS
Unlike most other 3D printing technologies, where users are spoiled for options, M-Jet is much more niche. There are only a handful of M-Jet manufacturers in the field, but a few start-ups have interesting takes on the technology.
If you're not ready to dive into buying your own M-Jet 3D printer you can always test drive the technology through a 3D printing service provider, such as Craftcloud, which offers M-Jet on the 3D Systems' ProJet MJP 3600 Series.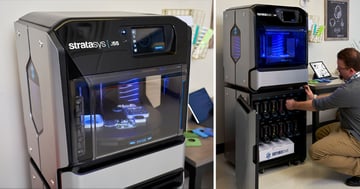 Stratasys, the global printer manufacturer giant, markets a wide range of 3D printers. The company's M-Jet line (Stratasys calls its technology PolyJet) features 13 printers ranging from office-friendly to industrial. Widely used in product design and healthcare, the Stratasys J8 Prime and J55 Prime machines are capable of stunning full-color prints in nearly 2,000 Pantone-verified colors and biocompatible resins. The company's other M-Jet machines focus on speed, biocompatible materials for dental implants, and materials for end-use part production.
The lead model is the J55 Prime ($99,000), a full-color high accuracy M-Jet printer with a compact, office-friendly footprint. The J55 Prime supports Stratasys' VeroUltra, Elastico, and Digital ABS materials. It's suitable for both rough prototypes and detailed end-use products with a round build chamber of 1,174 cm2. The printer also features a sealed enclosure to reduce noise and printer emissions. Multi-material capabilities let you load up to five materials at once and create multi-color or multi-material parts in one print.
The J35 Pro has the same print size as the J55 Prime. It supports only three simultaneous materials, compared to J55 Prime's five, but it also has more material options available. The Objet30 is a desktop-sized machine that's more affordable but can still produce detailed parts. The J8 Series and the J4100 scale the PolyJet range up to industrial levels.
In addition, Stratasys offers multiple M-Jet printers aimed at the medical field. The J850 Digital Anatomy focuses on anatomical models for device testing, surgical training, and patient-specific simulation. Stratasys J700 Dental 3D printer is engineered for clear aligner production, and there are also medical or dental variants of the J55 and Objet30.



MATERIAL JETTING 3D PRINTING BASICS
3D Systems MultiJet Printers (MJP)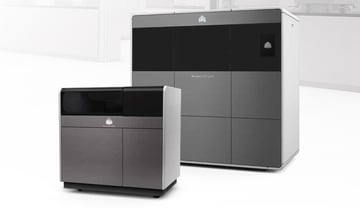 3D Systems is another major manufacturer with multiple 3D printer ranges spanning several 3D printing technologies. When it comes to the word "jet" in the printer names at 3D Systems, it can get a little confusing since the company makes both material jetting and binder jetting 3D printers.
Their M-Jet line or MultiJet Printers (MJP) as 3D Systems calls it, is the ProJet MJP series, not to be confused with the ProJet ColorJet Printing (CJP) series, which are powder material binder jetting machines.
The flagship model in the ProJet MJP range is the 2500 (and Plus version) with a 294 x 211 x 144 mm print volume and fine detail boasting a layer thicknesses as low as 16 microns. Selectable print modes allow users to choose the best combination of resolution and print speed. MJP parts have a smooth surface finish and can achieve accuracies rivaling SLA for many applications. Recent material advances have improved the durability of plastic materials making them suitable for some end-use applications.
The ProJet MJP range supports multi-material printing with materials including rigid, engineering-grade, temperature-resistant, elastomeric, and biocompatible resins, plus clear and colored opaque parts. They are marketed toward concept modeling, rapid prototyping, and pattern and mold production. MJP wax printers also offer a digital alternative to traditional lost-wax casting processes, eliminating time-consuming and costly processes.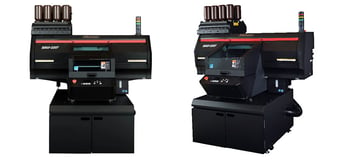 Japanese 3D printer maker Mimaki, best known for its 2D printers, has only two M-Jet 3D printers in its range. However, they are unparalleled when it comes to color.
The 3DUJ-553 is a full-color M-Jet printer, capable of producing over 10 million colors the company says. With a 508 x 508 x 305 mm print area and a minimum layer height of 19 microns, the 3DUJ-553 can print a large number of parts at a fast rate. Its variable dot technology optimizes droplet size for color detail, while automated features ensure smooth ink flow through its eight nozzles. The machine uses only white or clear liquid resin as the base material, then it instantly jets color to coat the base. After it's completed, a roller flattens the material layer, and the process repeats until the print is finished.
Mimaki has also introduced a second printer, the 3DUJ-2207. It's the little brother of the 3DUJ-553, featuring nearly the same technology in a smaller and less expensive package. The build area has shrunk to 203 x 203 x 76 mm and the minimum layer height increased to 28 microns. However, the 3DUJ-2207 can still produce the same 10 million colors as its bigger sibling and has the same advanced features.
Its water-soluble support material allows for easy post-processing, and the printer features a camera for live printing status checks.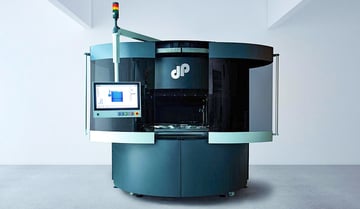 DP Polar, a German additive manufacturing start-up, has taken a unique approach with its AMpolar i1 and i2 printers. These large machines are focused on volume production of multi-material parts.
Like Stratasys' J55 and J5, the AMpolar machines have a rotating bed that spins the parts under the material jets, instead of a moving material jet head. This boosts production speed, the company says, to about 7 liters per hour on the i1 and 10 liters per hour on the larger i2.
AMpolar also allows for other machining processes during the printing process. For example, an electronic component or sensor can be inserted into the printed object during the production process manually or automatically, fully encapsulating the components for protection.
The company says both printers can reach an astonishing layer thickness as small as 4 microns, giving printed parts stunning surface detail. The i1 has a build area of 0.96 m2, while the i2 doubles that to 2 m2.
DP Polar's Cubic Ink materials range includes a wide variety of options, from rigid, flexible, and clear resins to the high-performance Series 1 and Series 4 materials.
As a new company, they don't have case studies to point to but definitely a take on M-Jet to keep an eye on.