How To Print Hallow
Hollowing out models can save you money, material and time. Learn when to hollow 3D objects with three easy methods for print success.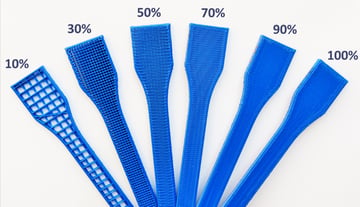 Have you ever wondered whether hollowing out a model is a good idea or not? Well, the simple answer is that since 3D printing is a volume-based production technique, there's almost always a benefit to some degree of hollowing out of a print. Hollowing can save you printing material, time, and money, and of course, potentially improve your prints.
In this piece, we'll discuss hallowing prints in general for FDM, SLA, DLP, and LCD (resin) printing. Then, we'll focus on the three main ways to hollow out your prints: with a slicer, vase mode, or a modeling program (we choose Meshmixer as our example). And finally, we'll go over some considerations for when and how much to hollow.
If you have a model in mind that you want to hollow but don't want to handle it yourself, consider outsourcing your printing needs to Craftcloud, our 3D printing service marketplace.
And with that, let's get into the hollowing basics.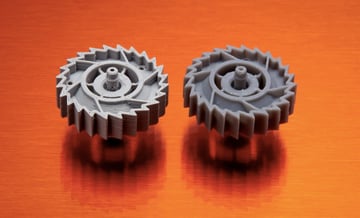 There are different reasons for hollowing prints depending on the printing material and 3D printing technology. Let's take a closer look.
Plastic
For FDM printing, the most common material for printing is PLA (plastic). Since plastic is much cheaper than resin, makers don't have to be as concerned with cost when wanting to add extra weight or strength to a model or in this case, thinking about how much to hollow. Aside from the time and money aspect, anytime you have a model with a large surface area at any point in the print – hollowing is a good idea.
Resin
When it comes to SLA, DLP and LCD technology, they're all resin-based 3D printing and can greatly benefit by hollowing out models. Resin, as we all know, can be quite expensive when compared to a similar volume of plastic material. Therefore, most users printing with resin want to minimize the amount they use while not compromising their print quality, which logically leads to hollowing.
Common resin prints are miniatures, busts, and other aesthetic models. Even if you consider the strength of your models, you still can save a lot of material and improve your prints by adjusting the infill density.
Now, let's get into the three methods that you can use to hollow your 3D prints.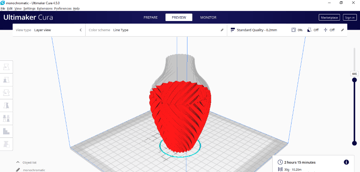 The slicer method is quite easy to do. Models are often designed as completely solid and the "Infill" setting in your slicer is where you can adjust a print's density level.
When adjusting the infill, it's important to consider what you'll be printing. The infill densities for both FDM and SLA models have a similar effect on the 3D printed object.
Let's take a look at how you would hollow out your model using the latest version of the free and popular slicer software Cura. You can easily vary the density of the object just by changing the infill of the object. This method is convenient and needs no extra pre- or post-processing.
The good news is that if you happen to use another slicer software, the process will be more or less the same.
Step by Step
Load your model into Cura.
If you're using the recommended settings, simply adjust the required infill using the slider.
If you want more control over the infill and other settings, select the custom option and you'll see additional print settings.
Click the "Infill" option and a drop-down menu will appear. Here you can adjust various settings related to the infill density of your model. There are also many

 

infill patterns

 

available to choose from.
Enter your desired value, slice, and save your model for 3D printing.
And that's how simple it is! If you'd like, you can compare the time and material differences at various infill densities to see how much of each you can save. A good starting point is from 10% to 15%.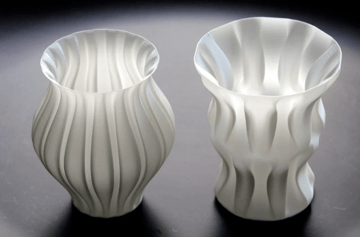 Vase mode is very similar to the infill option we saw above for hollowing your model except that here, we're just dealing with single-wall shell thickness. (Normally, we're able to set the wall thickness to our desired value.)
It's no surprise that vase mode is great for printing vases, though it can also be useful for sculptures, rockets and any kind of container.
Note that only models that have a continuous cross-section area can be printed with this mode because there's no retraction of the material from point to point; the filament is just like a single thread from the start to end of the a model.
Step by Step
Load your model into Cura.
Open the "Custom Settings" option.
Select "Special Modes" and a menu will dropdown.
Enable the "Spiralise Outer Contour" and "Smooth Spiralized Contour" options.
Slice the model and you're ready for 3D printing it! It's that simple.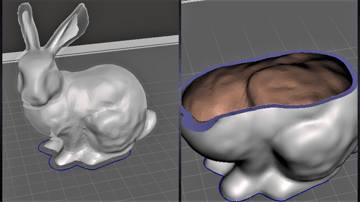 Meshmixer is one of the most beloved free programs for 3D printing. For our purposes, Meshmixer provides the user with options to hollow out the entire model and also lets the user choose the wall thickness of the object.
Unlike the slicer infill method, Meshmixer allows you to adjust the wall strength of the object by varying the wall thickness. Also, when SLA or DLP printing, you can directly specify the location and size of draining holes.
Step by Step
Import the desired 3D model.
Select the "Edit" option from the left-hand side menu bar.
Select the "Hollow" option.
Specify the wall thickness from the offset distance slider.
Select the number of holes and hole size if printing with resin.
Click on "Update hollow" and then "Generate holes". A model with your set parameters will be generated.
Accept the model and later export it in your preferred file format.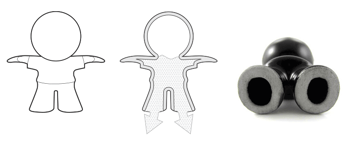 Of course, hollowing doesn't always go perfectly. There are several things to keep in mind when you're deciding if you should hollow a model and by how much:
Surface finish:

 

Confirm that your hollowing amount doesn't affect any surface properties of your model. You'll want to ensure you give a sufficient amount of wall thickness so the model is porous in the appropriate regions.
Strength:

 

The strength of your model depends on both the infill density and wall thickness. To make certain that your model has a sufficient amount of strength, you'll need to provide adequate wall thickness, especially if you're decreasing the infill density.
Exit or drain holes:

 

When printing FDM models, no need to worry about drain holes. But, when it comes to resin prints, exit holes can be essential so no material gets stuck inside the model. Certain slicer software programs like

 

ChiTuBox are specially designed for resin-based printing methods and can assist you with making correct drain holes.
Open vs. closed designs:

 

Some models simply cannot be hollowed out completely. Many times, the infill inside the model is necessary to support any

 

overhangs. At the same time, you don't have to print a completely solid model. The best way is in the middle: using sufficient infill to support any overhangs, but not too much so you still have a relatively lightweight model.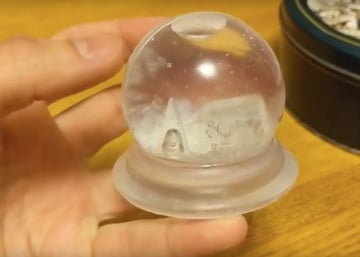 Now you know how easy it is to use 3D modeling software to hollow your prints and that it requires no extra post-processing steps. Since you've got all the basics covered, don't be afraid to make the cut!