PLA Best Brands 2021
PLA is the most popular material used in FDM 3D printing. It's easy to use, safe, affordable, and it has outstanding material properties. You can use PLA filament for a wide range of applications and it comes in an equally diverse range of composites and colors.
With such a wide variety of PLA on the market, it can be tough to discern which filaments are created by reliable manufacturers and are high in quality. At the end of the day, you don't want the cheapest filament if it means it'll give you lousy print results, but you also don't want to buy the most expensive filament when a cheaper one would have been just as good.
We've helped you narrow down your filament selection to a curated list of the best manufacturers to help you make an informed decision. We based our list on two main factors: Price and quality. We've also linked to our reviews of these filament brands to give you a better idea of how they perform.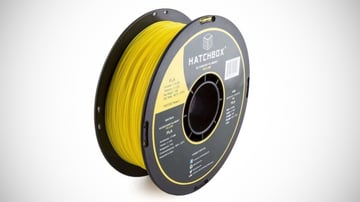 Hatchbox is one of the more popular filaments over on Amazon and offers good quality PLA filament at a reasonable price, making it the perfect all-around, everyday filament.
Hatchbox PLA filament is a blend of bioplastics and polymers and features a number of positive traits you would look for in PLA. The material's ±0.05 mm tolerance is consistent, the colors are vibrant, it is flexible yet strong for a PLA, and the detail resolution is amazing. On top of that, it also has a sweet pancake smell.
The spool comes sealed in a plastic bag packed in a recyclable cardboard box. The bag is not resealable. however, meaning you will need a dry box or a suitable compartment to protect your filament from humidity. Still, it's a minor drawback that can be tackled by finding a proper storing solution.

HATCHBOX PLA
Check price at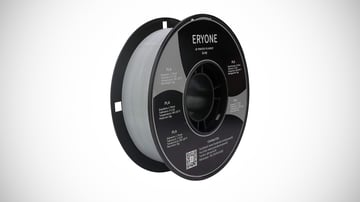 Eryone is a manufacturer of 3D printers, accessories, and popular filament blends. Aside from a wide assortment of colors, Eryone also provides more extravagant blends such as silk, marble, translucent, or multicolor. All of its PLA filaments are made from organic material.
The filament enjoys high popularity on Amazon. Plenty of users have praised its quality and features and have praised its smooth surface finish. All in all, this filament should proof easy to print with. It is available in 1.75 mm diameter, has a tolerance of ± 0.03 mm and ships in 1kg spools.
Please note that some 3D printers (explicitly Original Prusa printers) may need to print this filament at a slightly higher temperature to yield the best results.

Check price at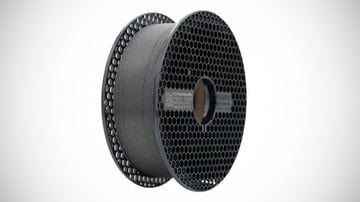 Prusament PLA is manufactured in-house by Prusa Research and is available in 1.75 mm diameter and many different and vibrant colors.
All Prusament PLA filaments have a bit of glitter in them, which helps enhance the visual appearance and hide potential imperfections on the surface. There are even special PLA filaments, such as Mystic Green, that have the unique ability to change color depending on the nozzle temperature and layer height, allowing you to create special visual effects.
Prusa Research claims its PLA filament prints easily, provides reasonable toughness and has an extremely low warping potential. Our review of the Galaxy Black Prusament PLA and community feedback only confirm this.
Prusa Research also guarantees a manufacturing precision of ±0.02 mm. As a quality control assurance, customers can inspect the testing parameters of every filament spool by scanning the QR code on the product and reading the details online.

heck price at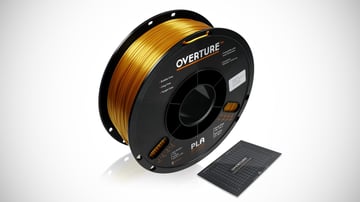 Overture is another producer of affordable and reliable 1.75 mm filament that has gathered thousands of positive reviews on Amazon.
Interestingly, each spool of Overture PLA comes with a 200 mm x 200 mm magnetic removable build surface with a grid layout that you can use to monitor print dimensions and counter any bed adhesion issues. Although arguably a little small for today's 3D printer standard, it is a neat little addition that might come in handy when playing around with more demanding materials such as ABS or Nylon. What's more, each spool comes with handy little indicators, showing you the length and weight of the filament left.
The filament has a tolerance of ±0.05 mm, is available in 1 kg spools, and comes in many different shades and colors. Overture also offers a "PLA Plus" – with a claimed toughness five times greater than that of regular PLA.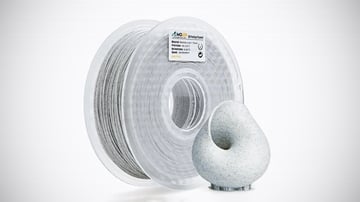 Filament manufacturer Amolen offers PLA in a wide variety of colors and unique composites, such as a thermochromic PLA, which changes color as the temperature changes, or glow in the dark filaments. The above photo is an example of Amolen marble-like PLA.
Besides its more exotic blends, Amolen has won a reputation for its affordable spools. Available in 1.75 mm diameter and with a tolerance of ±0.03 mm, customers can choose between 0.5 or 1 kg spools.
After testing it at All3DP, we've printed some smooth prints with excellent results. The material has good layer adhesion, but you may need to apply some adhesive to the printing bed. Unfortunately, the spool comes in a non-resealable plastic bag. This again means that you will need an alternate solution for keeping your filament away from moisture.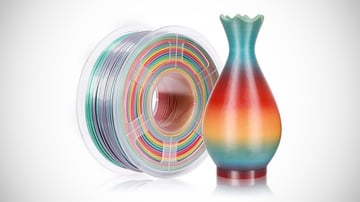 Sunlu is a widely known filament manufacturer known for the large variety of quality materials it offers for affordable prices.
Sunlu offers its standard PLA in a number of colors and variants, including Silk, Marble, and a special PLA and PETG blend, which it calls SPLA. Reviewers across the web attest to the great printing performance of Sunlu PLA, finding it to print with crisp detail, great adhesion, vibrant color, and little to no warping.
All of Sunlu's filaments come neatly packaged in vacuum-sealed bags with desiccant packets to avoid moisture. The community notes that the spools are very neatly wound, assuring tangle-free prints. Its PLA filaments conform to a standard tolerance of ±0.02 mm and are available in a 1.75 mm diameter. Spools are sold at a weight of 1 kg each and are additionally available in bundles for up to 5 kg of filament.

Check price at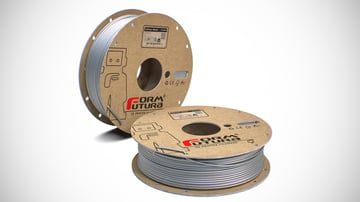 Dutch filament manufacturer FormFutura convinces with a large special filament portfolio.
Besides the company's EasyFil PLA, an easy-to-use, warp-free PLA blend for your day-to-day print jobs, and its Premium PLA, a high-end, more rigid PLA with excellent thermal stability, geared towards professional applications and prototyping, Formfutura also offers a variety of special PLA blends.
Among the most interesting to name is Volcano PLA, a high heat-resistant, biodegradable PLA filament with properties similar to ABS and more exotic blends such the glittery Galaxy PLA or metal-, cork-, or even stone-filled PLA.
FormFutura is big on sustainability. Its filament ships on fully recyclable carton spools, and the company even offers ReForm rPLA: essentially EasyFil PLA made from residual extrusion waste re-compounded into a high-end upcycled PLA filament.
All spools are available in 1.75 mm and 2.85 mm range from 250g to 8 kg.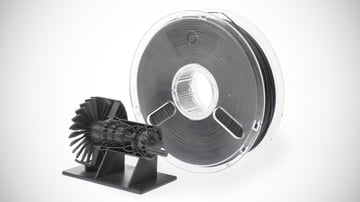 Polymaker is a very well known filament manufacturer that sells PLA in a dozen different colors.
There are certainly other brands on this list that offer more vibrant colors and greater range, but besides its everyday PLA filament known as PolyLite, the company also offers PolyMax PLA. According to Polymaker, PolyMax PLA has an impact resistance nine times greater than that of regular PLA filaments, and is 20% more resistant than ABS, all while still retaining the easy-to-print attributes of PLA. Being PLA, it also doesn't have any warping problems or give off as much toxic fumes as ABS.
Users have reported that Polymaker filament shows barely any stringing, and performs well printing overhangs and bridges. The filament ships in resealable plastic bags and is available in 1.75 and 2.85 mm diameters. With a tolerance of ±0.05 mm, it comes as 0.5, 1, or 2 kg spools.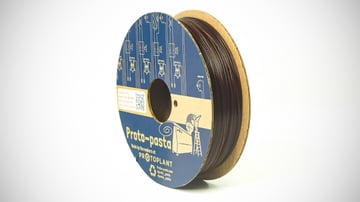 Proto Pasta launched after a successful Kickstarter campaign in 2013 and is now a well-established filament manufacturer, gaining popularity with users for its high quality blends.
The firm produces some extremely interesting filaments such as Rustable Metal PLA, Stainless Steel PLA, or Composite Conductive PLA filament. And yes, the latter does actually work for basic circuitry. However, it should be noted that the manufacturer advises using a 0.4 or 0.6 mm nozzle for some of these filaments, and that they can be very abrasive, so entirely new nozzles may be required from time to time.
Proto Pasta also offers a special HT-PLA that boasts similar ease of printing to standard PLA but can also be heat-treated for added stability and strength. This should allow it to hold its shape at temperatures approaching 200 °C, considerably more than PLA's average melting temperature of around 50 °C. The newest version of HT-PLA is the result of three years of refinement and user feedback.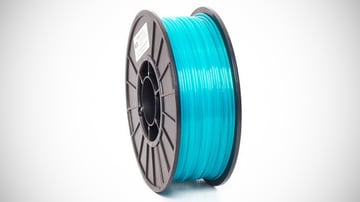 MatterHackers provides a wide variety of high-quality filaments, printers, tools, and parts to makers, but unfortunately only currently ships products to the US.
With the Build Series PLA, MatterHackers gives us a filament with a dimensional accuracy of ±0.05mm that its website says is "…designed and priced for every maker." A 1 kg spool of MatterHackers Build Series PLA is available in both 1.75 mm and 2.85 mm diameters and comes in a large variety of colors.
MatterHackers also offers a Pro Series PLA for tinkerers with a more professional approach.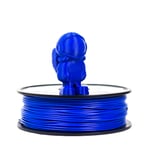 MATTERHACKERS BUILD SERIES PLA
Check price at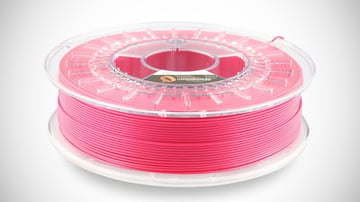 Fillamentum is probably best known for the extravagant colors it offers its filaments in. Its everyday blend, Extrafill PLA, comes in astonishing colors with names as vivid as the colors themselves, such as Vertigo Chocolate or Everybody's Magenta. Users have attested to its ease of printing, great visual quality and details.
In testing, we found the filament shows no signs of warping while only needing a slight bump in the retraction settings to give spectacular prints in the fanciest color versions.
Fillamentum also offers Crystal Clear PLA. Besides producing objects with high clarity and gloss, this compound also offers an improved heat resistance compared to standard PLA filaments. It can be easily annealed to increase chemical, mechanical, and temperature resistance even further.
Last but not least, Fillamentum also offers NonOilen filament, a PLA/PHB blend that offers increased toughness, temperature resistance, and superior biodegradability.
All materials are available in 1.75 or 2.85 mm diameter, have a dimensional accuracy of ±0.05mm, and the spools are available in 750 g packages.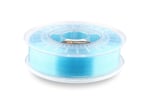 Check price at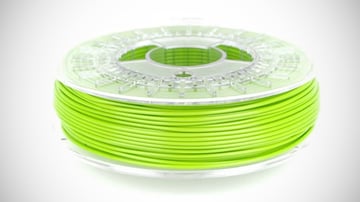 The secret behind Colorfabb's PLA is a little extra ingredient – PHA (Polyhydroxyalkanoate). It should make the filament stronger and more durable than many other PLAs, with excellent layer adhesion properties and reduced warping tendencies, all while retaining ease of printing. It also comes in a variety of colors.
Colorfabb will also sell you a lightweight PLA (LW-PLA), which promises to reduce the weight of printed parts by up to 65% over regular PLA, making it especially suited to items requiring low weight, such as RC planes.
As far as technical specs and quality control go, Colorfabb PLA filaments are top-notch with a fantastic tolerance of ± 0.1 mm. You can choose from both 1.75 mm or 2.85 mm diameters, and the spools are typically available in 750 g or 2.2 kg spools, though spool weight goes as high as 8 kg in some cases.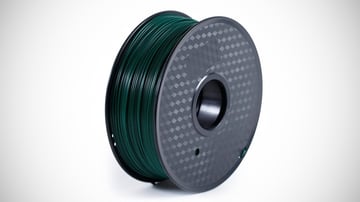 Paramount 3D isn't as commonly known as some other filament manufacturers on this list, but the US-based firm has received good recommendations and offers unique colors at reasonable prices.
Interesting options such as Iron Red, Tuxedo Midnight Blue, and British Racing Green clamoring for consumer attention. Indeed, the community showcases outstandingly good prints using Paramount 3D's PLA, with great color, excellent layer adhesion, and clear detail and consistency while printing.
Paramount 3D does not publish the exact tolerances to which its PLA is made, but a large proportion of positive reviews suggest that quality control is certainly not lacking. The filament is made entirely out of virgin PLA material and has a diameter of 1.75 mm. If you want to try it, samples are available to order but it usually ships in 1 kg spools, or cases of 8.